Mountain Dulcimer Resources in Northern California.
Please contact us if you are a northern California mountain dulcimer resource provider, or if you know of one not listed on this website.
Mountain Dulcimer Instructors and Performers
Retail stores that carry mountain dulcimers
Mountain Dulcimer Instructors and Performers
Santa Cruz County:

Neal Hellman
Availability: Performances; Event Workshops
Contact: neal@gourd.com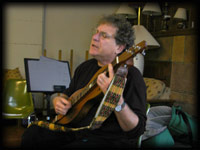 Neal has been active in performing, writing, teaching and recording acoustic music for the past twenty years throughout the United States, Europe, and New Zealand. He is the author of many dulcimer books, including It's A Dulcimer Life, The Dulcimer Chord Book, The Hal Leonard Dulcimer Method, Beatles Dulcimer Book and The Music of the Shakers For Mountain Dulcimer on Mel Bay Publications.
http://www.gourd.com/NealBioWorkshops.html

Janet Herman
Availability: Performances; Event Workshops; Private Lessons
Contact: fasola@cruzio.com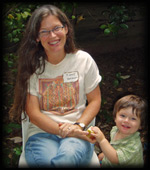 Janet is a multi-instrumentalist instructor with Community Music School of Santa Cruz and co-founder of Redwood Dulcimer Day. She is also a vocalist and is featured on Neal Hellman's Celtic Songs and Slow Airs for Mountain Dulcimer and other recordings. She holds a doctorate in folklore/ethnomusicology, and her playing reflects interest in American roots music and various world music traditions. She often performs with harmony vocalist/percussionist Laura Reeve and in the Celtic trio Dance Around Molly. www.folkplanet.com/dam
Dulcimer Girls
Availability: Performances
Contact: l@eyeqsantacruz.com

Dulcimer Girls, aka Jayme Kelly Curtis and Laura Devine, both play dulcimer and perform originals, folk ballads, and old time spirituals in vocal harmony—their approach reflects the rhythmic influence of Laura's first dulcimer teacher, Joellen Lapidus. Jayme is also a singer-songwriter with two solo recordings under her belt.http://www.purrgirl.com/Dulcimer.html
For lessons contact Laura at

dulcimergirlrocks@gmail.com


or cell

831-818-0118
Saratoga/Palo Alto:


Peter Tommerup

Availability: Performances; Event Workshops; Private Lessons; Public Classes
Contact: ptommerup@juno.com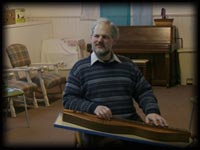 Dr. Peter (he holds a Ph.D. in Folklore Studies) has been teaching and performing on mountain dulcimer since 1977. He specializes in Celtic, Western European, and Old Time American instrumental tunes. He currently teaches at Gryphon Stringed Instruments (Palo Alto, CA), and previously wrote Teach Yourself to Play the Dulcimer (Kicking Mule). He has taught at several major festivals in California and North Carolina, and is co-founder of Redwood Dulcimer Day. Peter often performs with multi-instrumentalist Karl Franzen in the instrumental duo Slainte and with his wife, fiddler Lee Anne Welch. http://www.harmonspeak.com/sfslainte/
East Bay:

Deborah Hamouris
Availability: Performances; Event Workshops; Private Lessons
Contact: ninshibar@ninshibar.com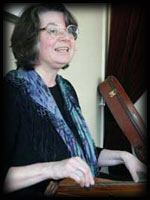 Deborah provides three-week classes or private lessons that include everything you need to get going on your dulcimer. She has taught music for 20 years and holds a BA in music with an emphasis in vocal studies. Her influences include choral music, classical, opera, folk, world music, musical theater, circle-singing, and jazz. http://ninshibar.com/Dulcimer.htm#schedule
Davis:
Paul Furnas
Availability: Event Workshops; Private Lessons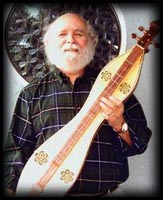 Contact: paul.furnas@sbcglobal.net
Paul's doctoral work on the Lyra Viol (a 17th-century English style of viola da gamba that uses tablature notation and variant tunings) segued well into writing finger-picking music for the mountain dulcimer. Since the 1970s he has contributed numerous articles to the Dulcimer Players News, and he currently teaches composing and theory for mountain dulcimer.
Blue Lion
http://www.bluelioninstruments.com/
Beautifully crafted mountain dulcimers from Janita Baker, of Santa Margarita, CA. She has also produced several fine dulcimer books and recordings.
Bear Meadow Dulcimers
http://bearmeadow.com/
Appalachian dulcimers of superb beauty, projection, voice and action.
Gourd Music
http://www.gourd.com/
An independent label specializing in acoustic music owned by the nationally renowned dulcimer artist, Neal Hellman, of Santa Cruz, CA. Scads of great dulcimer recordings and books.
Coog Instruments
www.cooginstruments.com
Santa Cruz County craftsman Ronald Cook creates Early American folk instrument art based on historic originals. Check out his unique dulcimer noters with hand-carved figures.
The Bigfoot Discovery Project
http://www.bigfootdiscoveryproject.com/index.php
Owned by dulcimer builder and recording artist Michael Rugg, of Felton, CA, this Bigfoot museum also includes mountain dulcimer paraphernalia. An exceptional combination!
Kindred Gathering
http://robertforce.com/

Annual roving hippy summer campout started by mountain dulcimer folks that sometimes lands in northern California.
Lark Camp
http://larkcamp.com/information.html
Huge summer folk music camp in Mendocino includes a mountain dulcimer workshop.
San Francisco Folk Music Club
http://www.sffmc.org/
Campouts, monthly gatherings, and annual free folk music festival with mountain dulcimer workshops and MD-friendly jamming.Retail stores that carry mountain dulcimers
Retail stores that carry mountain dulcimers

Gryphon Stringed Instruments, Palo Alto
http://www.gryphonstrings.com/
Lark In The Morning, San Francisco & Mendocino
http://www.larkinthemorning.com/default.asp

Sylvan Music, Santa Cruz
http://www.sylvanmusic.com/